Release date 2017/07/24 11:26:06 Update date 2022/04/07 14:32:09
Distinction and Operational Scope of Security Protection System
Work Systems
Security protection operations consist of 3 major systems: institutional security, military security and public security:
(1) Institutional security: This is implemented in government authorities at their respective levels and public work institutions by the Investigation Bureau under the supervision of the Ministry of Justice.
(2) Military security: This is implemented in military agencies, defense forces, schools, bases, and logistics support forces at their respective levels by the General Political Warfare Bureau under the supervision of the Ministry of National Defense.
(3) Public security: This is conducted by the National Police Agency and National Immigration Agency under the supervision of the Ministry of the Interior. The agencies are responsible for coordinating, planning, implementing and supervising their subordinate agencies at the respective levels. This comprises general public security work and immigration security work.
Scope of Operation

Security protection work encompasses the four following aspects, protection of secrets, prevention of penetration, security protection and security education:
(1) Protection of secrets: This comprises the protection of classified national security information, classified military information, national defense secrets, general public service secrets, industry secrets, and prevention against the obtaining or holding of information that should be kept secret by the enemy or illicit parties through unlawful means or methods.
(2) Prevention of penetration:This comprises prevention against moles or spies assigned by enemies to engage in all illegal activities by unlawful means including destruction of State organization, theft of state secrets, modification of the Constitution, subversion of the government and harming of state security, institutional stability, as well as social peace and order etc.
(3) Security protection:This comprises the security maintenance of personnel, materials, equipment and facilities of government agencies, national defense and military units, public operations and institutions, factories and mines at their respective levels, in order to prevent occurrence of hazards and damage.
(4) Security education:This is to ensure national security, maintain State interest, enhance social stability and order and safeguard public wellbeing by way of education and dissemination of policies and regulations, democratic practice and rule of law, protection of secrets, prevention of penetration and security protection etc.
Key Aspects of Security Protection Work
Protection of Classified Information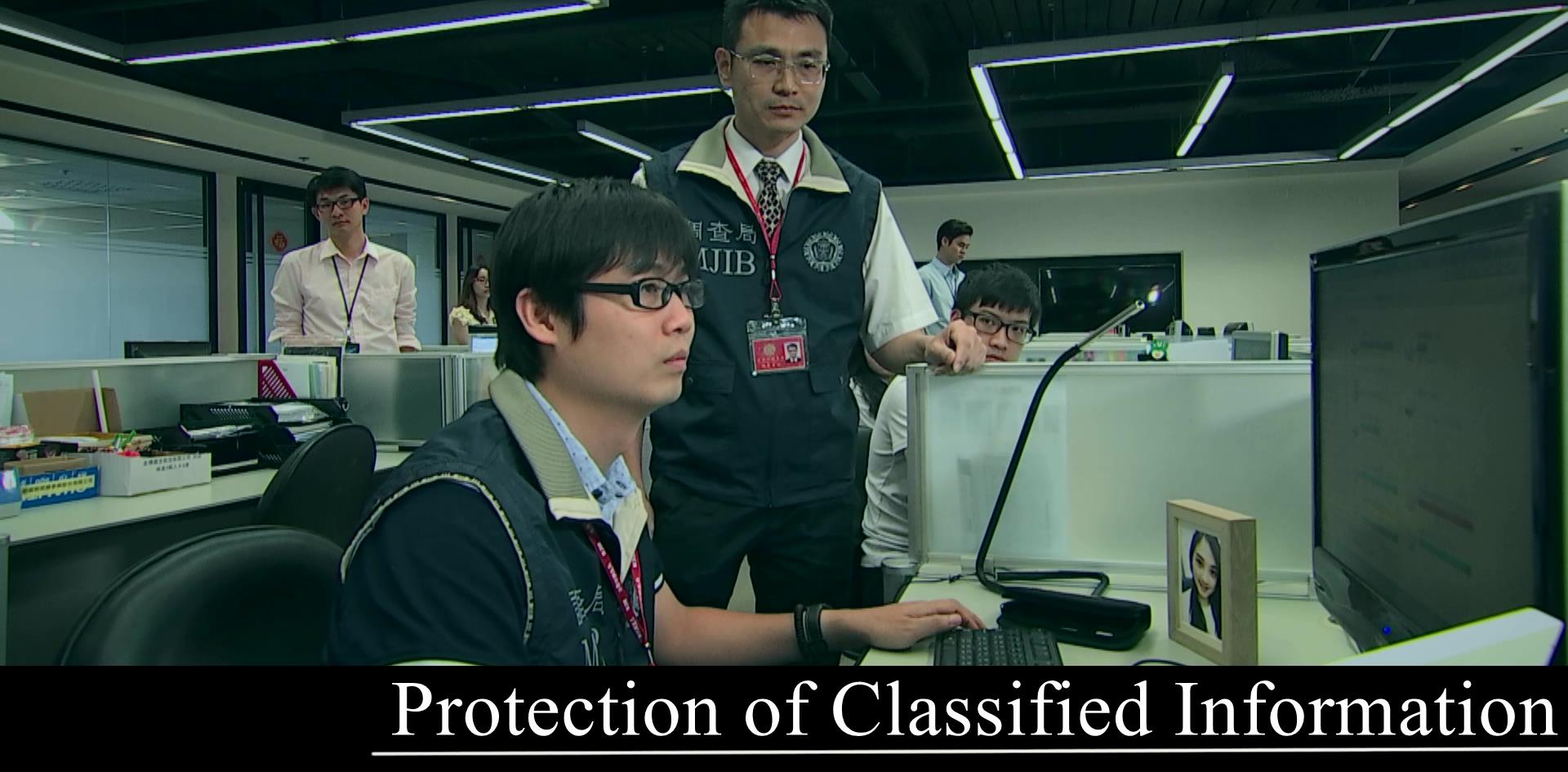 Protection of classified information is the statutory responsibility of the Bureau
The protection of classified information is integral to national security. In the event of leaks, national security would be at risk, hence the great importance of classified national security information protection. All citizens are duty bound in the protection of state secrets, even more so for public servants. "State secrets" include: Secrets of the State, national defense, those other than involving national defense, military secrets and "classified items" designated by government authorities in exercise of their powers, and matters which are expressly designated as classified information.
Prevention of penetration by enemy spies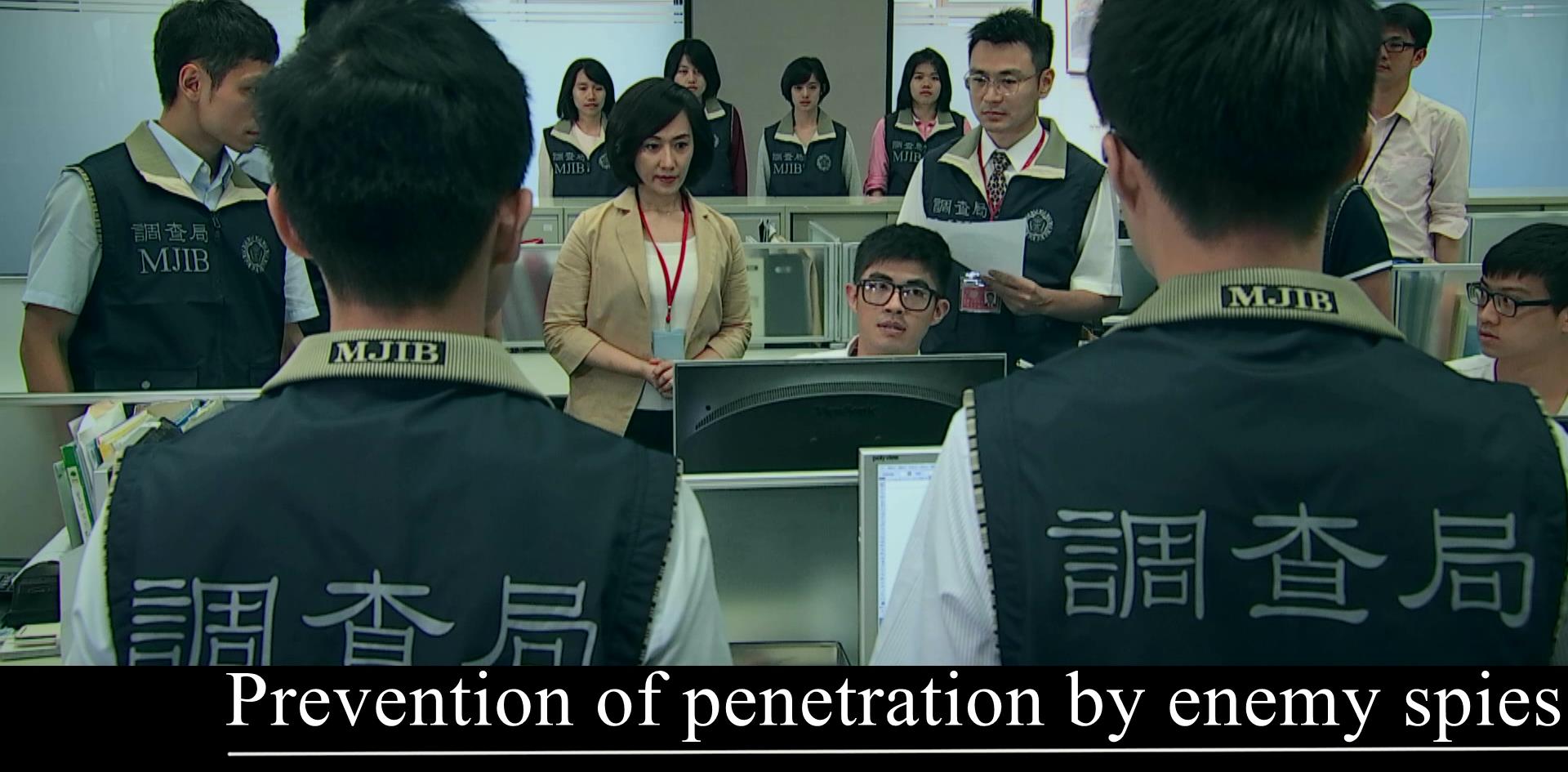 The Bureau's core task is "to maintain national security". In conjunction with its other professional work, the Bureau's overall function is to protect national interests and ensure resident wellbeing. Prevention of penetration by enemy spies is the foundation for ensuring national security and social stability. As exhibited through information collected and cases solved in recent years, it is certain that enemy spies have been actively penetrating Taiwan through various lawful and unlawful means in order to conduct illegal activities such as development and organization of crime, intelligence collection, theft of secrets, devastation of economic order and disruption of social order etc. To protect national security and maintain resident wellbeing, the Bureau has for the sake of better protecting national security, aside from a full competency in the grasp of local and foreign political and economic developments, formulated relevant plans to strengthen its internal work deployment and proactively investigate leads on illegal activities by enemy spies to effectively enforce counter-measures. Our responsibilities depend upon the full cooperation of all our citizens so as to ensure the security, democracy and prosperity of our nation.
Institutional Security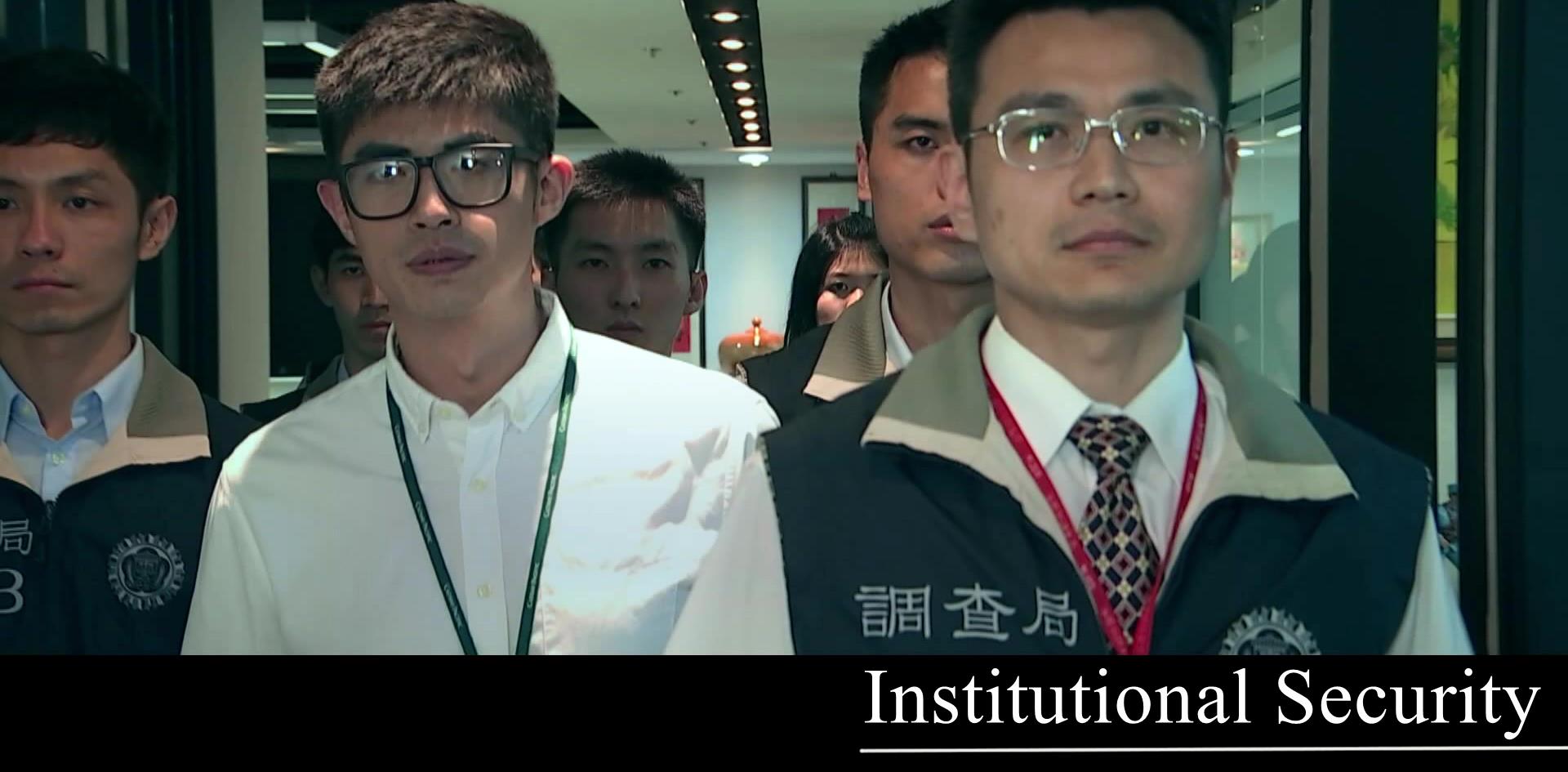 Implementation of special audits
The prerequisite requirements for public servants are loyalty to the state, integrity in moral character and maintenance of basic national interest. All advanced democracies throughout the world have formulated public servant security audit regulations. Special audits conducted by the Investigation Bureau are carried out in accordance with the "Civil Service Employment Act" and the "Regulations on Special Audit for Public Servants Involving National Security or Major Interest". The subject matter of such special audits include national defense, foreign affairs, science and technology, intelligence, finance and economy and Mainland China affairs, and are conducted on public servants whose work involve national security or major state interest.
Get our publication!